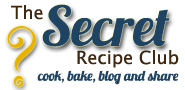 I was really excited to be chosen to make a recipe from A healthy Jalapeno this month for Secret Recipe Club especially since I am trying to lead a healthier life. I must admit I had a hard time choosing which recipe I wanted to make. There were so many that called out my name. I narrowed it down to one, but believe me I will be back to try more out. Visit

www.ahealthyjalapeno.com

out for yourself you won't be sorry you did. This blog is one of those "get your pinner ready" for Pinterest blogs.
Here is the really weird part about getting to try out A healthy Jalapeno recipe…. I already had several of her recipes pinned on Pinterest including this one!!!
I chose to make
CreamyTortellini, Mushroom and Spinach Soup the only changes I made to the recipe were … I made it on the stove top in about 1 hours' time, and I added 1/8tsp of cayenne pepper which was still a little warm for my pallet.
I loved the recipe. I found it incredibly cream, and delicious. It really reminded me of a recipe you would get at a restaurant not at your own dining room table. I love the spinach in the soup. Not only did it add incredible color and nutritional value, but it also added a great flavor and texture.
Visit

www.ahealthyjalapeno.com

for this incredible recipe and many more! Next on my list of recipes to try is her Festive Cheese Tortellini and Basil-Walnut Pest Dippers.
Check Out Our Online Recipe Book:
www.CafeChatterbox.com